Desktop Shark
A downloadable tool for Windows
DesktopShark is a new high-tech software which will liven up your computer, and remind you of important things!
The cute shark will appear above all other windows, and send you custom messages frequently.
When clicked on, the shark will do a SICK BACKFLIP!
Right click moves the window, and middle click rotates the "camera".

The shark is customizable, as you can replace its texture and really make it your own! A readme.txt file is included with instructions.
The application has a very small impact on performances, and can run on most systems (windows only, though!)

Install instructions
Extract the folder anywhere and run the .exe, that's it!
If you want the app to start automatically, you must:
- Press the Windows + R keys. A window should open.
- Type: shell:startup. Another window should open, in a specific folder.
- Create a shortcut of DesktopShark.exe and put it in the folder.
Next time you start your computer, the application will run automatically!
Just remove the shortcut if you want it to stop.

Comments
Log in with itch.io to leave a comment.
How do you get rid of redundant windows, polymorphic windows?
I love it
Looks good, but for me it launched as in window.
Maybe my Intel HD integrated graphics on laptop is .. not so modern. Win7,64bit.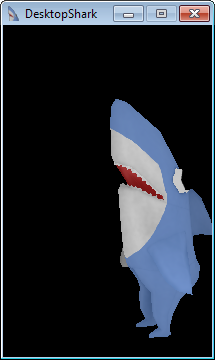 Hey ZaRR, this issue sometimes happens when the application loads while you're focused on another window.
Please make sure you start the app, maybe click on it once, and wait for it to finish loading before you switch to another window :)